Our friends at LuggageHero have made their selection of the must-needs of travel apps and guess what, the Donkeys are featured too. We are so glad to be recognised among the best 10 travel apps in 2020. Take a look and make sure you download your selection of best travel apps before you take off.
These 10 best travel apps will help inspire your journeys in 2020.
A lot of travel records were hit in 2019 – a record 225,000 planes took to the sky on July 24, the biggest amount ever recorded on a single day, according to flight-tracking service FlightRadar24. Can you even imagine how many travellers that means for one day? Now imagine how many that is for a whole year! With travel demands rising, new innovations that help the industry are more important than ever before.
Yesterday, we tracked over 225,000 flights in a single day for the first time. Follow more than 20,000 flights right now at https://t.co/A4mWRJu9Vi. pic.twitter.com/Pxh21WiAy3

— Flightradar24 (@flightradar24) July 25, 2019
Luckily, companies are constantly trying to come up with ways to make travelling easier, more efficient and convenient for all of us. We took a look at some of the best and newest inventions out there and came up with a list of 10 travel apps you need to know about in 2020. The following apps should be able to make your adventures easier and more pleasant and allow for you to just sit back and enjoy the ride.
Take a look at our list right here, all top apps have made it "best 10" which means that the order is completely random.?
?
Omio's platform allows you to find the fastest, cheapest and best travel options by train, bus and flight to thousands of cities, towns and villages across Europe, the United States and Canada. This kind of approach to travel allows travellers to travel with ease and be able to see all of their options. A single search provides all the trains, buses and flights available to accommodate your personal travel needs. The app allows you to search in over 35 countries!
?
While biking might not be for everyone, it surely is one of the best and cheapest ways to get around nowadays. It is also sustainable and allows you to leave less of a footprint on your travel destination. Donkey Republic is a self-service bike rental platform, available in more than 50 cities, 24/7, which makes it one of the best travel apps you will need in 2020.
By using our app you can find and unlock a Donkey near you. Simply connect to the electronic lock on the vehicle via Bluetooth on your smartphone. You can take short trips or even use the two-wheeler for multiple days.
You may be wondering what's up with the Donkey…
"Once, a donkey would be the most accessible, dependable and commonplace means of transportation. Nowadays, when our cities are suffocated by boxes of metal, the humble bicycle is taking the role of its hoofed ancestor as a convenient and pragmatic device of urban mobility."
The bike is the donkey of 2020 – the simplest, most plain and unpretentious vehicles ever invented.
We seek to excite customers with great value, flexibility, and the spontaneous joy of last-minute booking.
— Sam Shank, Co-founder of HotelTonight
HotelTonight allows travellers to book a hotel room last minute, giving travellers the best discounts on all kinds of hotels. They've got you covered with amazing deals at thousands upon thousands of top hotels in cities & countries worldwide. Through using HotelTonight you get discounts on the hotels' empty rooms. You get the best rates and deals, whether last minute or in advance. HotelTonight makes it incredibly easy to find and reserve a sweet deal at a great hotel.
?
AirHelp assists passengers to get up to €600 in flight delay compensation. Delays, cancellations, overbookings – it happens all the time! What do we do in these situations?
The AirHelp app puts the power back in YOUR hands as an air passenger. Any disrupted flight you have had in the last three years could mean hundreds in cash for you. They follow up your claim with the airline and get you your money back. No hassle, no stress, you just sit back and relax.
Since 2013 AirHelp have helped over two million travellers get money back from airlines. By using cutting-edge technology, real-time flight data and unparalleled knowledge of the industry they are able to win cases on your behalf and get you the money you are entitled to as a passenger.
For those of you who want a little luxury – try onefinestay. With this travel app, you can plan your next vacation or time away by staying in distinctive private homes and villas in the world's most sought after travel destinations around the world.
With just a few clicks you can discover and book the world's finest homes and villas, manage your booking and access detailed home instructions, like how to turn on the TV, adjust the heating and connect to the WiFi. The hospitality brand unlocks a whole new level of customized experiences for the discerning traveller.
HomeExchange is the world's leading home exchange community, with nearly 400,000 homes in 187 countries, allowing users to find a cost-effective and comfortable accommodation solution for their travelling.
You first create your listing (it's free!) and fill out your profile, then you can look for homes in destinations that interest you and send exchange requests. After that, you will need to become a member and finalise your exchange.
For $150/year, you can take advantage of the following: unlimited worry-free exchanges, unlimited number of exchanges, member support at your fingertips. Assistance in case of cancellation or non-compliance, property damage coverage. There is also an exchange guarantee which means that if you didn't find an exchange in your first year, your second year of membership will be free.
Withlocals allows you to get the most out of your city trip chat with your local host and personalize your tour just the way you like. All of the carefully selected local hosts are passionate about their city. They are also enthusiastic about sharing the best tips and tricks to make the rest of your trip an unforgettable experience!
Example Tours:
Discover Rome bite by bite on a delicious 10 tastings tour. Stroll through the city like a local and enjoy the fabulous architecture and must-see sights.
Visit a non-touristy floating market in the heart of Bangkok, taste delicious food and learn how to bargain like locals do – your host can show you how!
See the main attractions of Lisbon in a non-touristy way. This is your chance to see the city's highlights plus some beautiful hidden gems that can't be found in any guide books!
?
Travello is one of the world's largest travel social networks with a community of travel enthusiasts from 180+ countries. The app connects you with all kinds of travellers – solo backpacking enthusiasts, digital nomads and even groups of friends & families to make your travel experience memorable.
The app can enhance your trip experience by offering exclusive travel deals and a platform to share travel plans with your travel partners and post your latest vacation photos and videos on the feed! That way you can share your travels with people who want to share theirs with you.
Whether you're a backpacker, a digital nomad or maybe you're not even travelling right now, on Travello you can create the community you want.
WanderSafe is the app that empowers you to navigate your surroundings better and safer. With its interactive and dynamic location-based maps, it is your personal safety concierge. Getrelevant safety advice and alerts if you are entering an area that could be unsafe.
The app needs more people to start using it so it reaches its full potential and we believe it is on its way.
With WanderSafe you can explore new neighbourhoods, cities and countries. The app will show you reports of incidents you should avoid and tips from WanderSafe verified local "Heroes".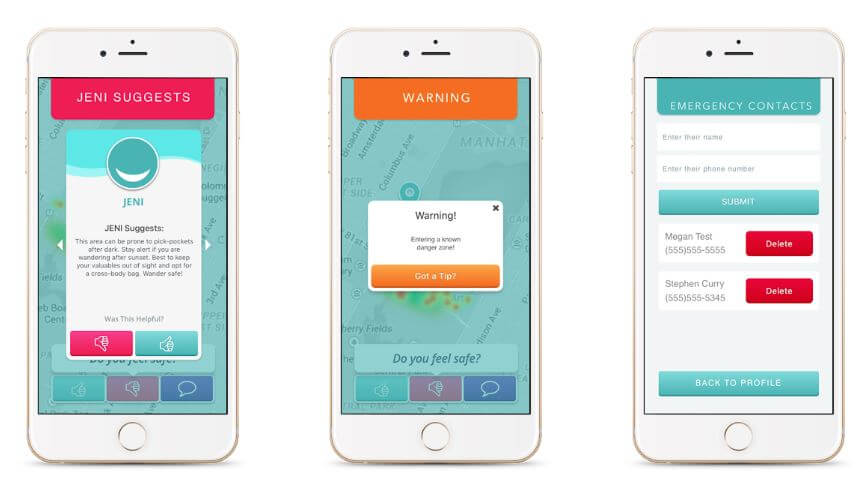 No more frantically searching through your inbox for important details like when your flight gets in or your confirmation number. Get to them instantly in TripIt, even when you're offline. The app makes it easy to sync travel plans to your calendar or share them with anyone.
TripIt allows you to quickly make sense of all your travel plans and create a single itinerary for every trip you have. Stay one step ahead from planning to landing with the world's highest-rated travel organizing app.
All the above-mentioned services will make your travels better and easier. All you need to do is get these best travel apps on your phone before you take off.
Our plus one for the best travel apps list: LuggageHero's free app:
Don't let your bags hold you back from experiencing new places. Store your bags with one of our luggage storage locations in +36 cities around Europe and the US. For even more comfort you can download our LuggageHero bag storage app where you can easily see all our locations. iOS / Android